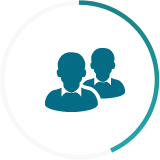 Roundtable meetings
Face-to-face meetings where experiences, information, and ideas are exchanged in a professional but informal atmosphere. Discussions focus on real-world best practices and peer-to-peer exchange. Meetings are held at member facilities to keep expenses low and give Roundtable members an opportunity to learn more about the host facility's industry. Meeting agendas are developed based on the members' needs. The Roundtable is a closed-door forum where attendees can share ideas and information freely. No meeting minutes are kept, but presentations are posted to the website's password -protected website.
EHS Manager Directory
Senior EHS Managers of regulated entities are welcome to register on our website. Once the registration is approved you will have access to a growing registry of EHS managers from a diverse spectrum of businesses and organizations. Search the Registry database to find the expertise you are looking for. Your registration will also allow you to participate in the EHS Forum.
EHS Forum
Provides an electronic forum for registered members and active sponsors of the EHS Roundtable to engage on current topics.
EHS Classified Ads
Post or read about open positions, meeting announcements for like-minded groups, advertisements, or anything else you would like to share with your peers. All net proceeds from Classified Ads are donated to charity organizations identified on our Sponsor page.
Become a Roundtable Sponsor!
The EHS Roundtable meetings and adminstrative costs are funded by our generous sponsor-partners. Sponsors are businesses that provide products or services to EHS managers (e.g., consultants, attorneys, vendors, staffing firms, etc.), or others that wish to support the Roundtable through donations and contributions. Sponsor participation at meetings is limited to a percentage of attendees to ensure quality interaction between EHS managers and participating sponsors. The Sponsor's Page provides sponsors an opportunity to advertise their logo with a hyperlink to their website. See our Home page and Sponsor pages for details, visit our Sponsors and use their products and services where they bring value to your organization and EHS programs.
Making a Difference
The Roundtable does not charge EHS managers to attend meetings, but we do leverage the collective power of the group to support charitable EHS causes for those less fortunate than ourselves. Click the link below to visit the websites of the organizations we are currently supporting and contribute as you can - to make a difference and send us your receipt for credit to use the Roundtable Classified Ads.